Ørsted Showcases Offshore Wind Careers at Junior Achievement Event in Salisbury, Maryland

2022-03-29T06:00:00.0000000Z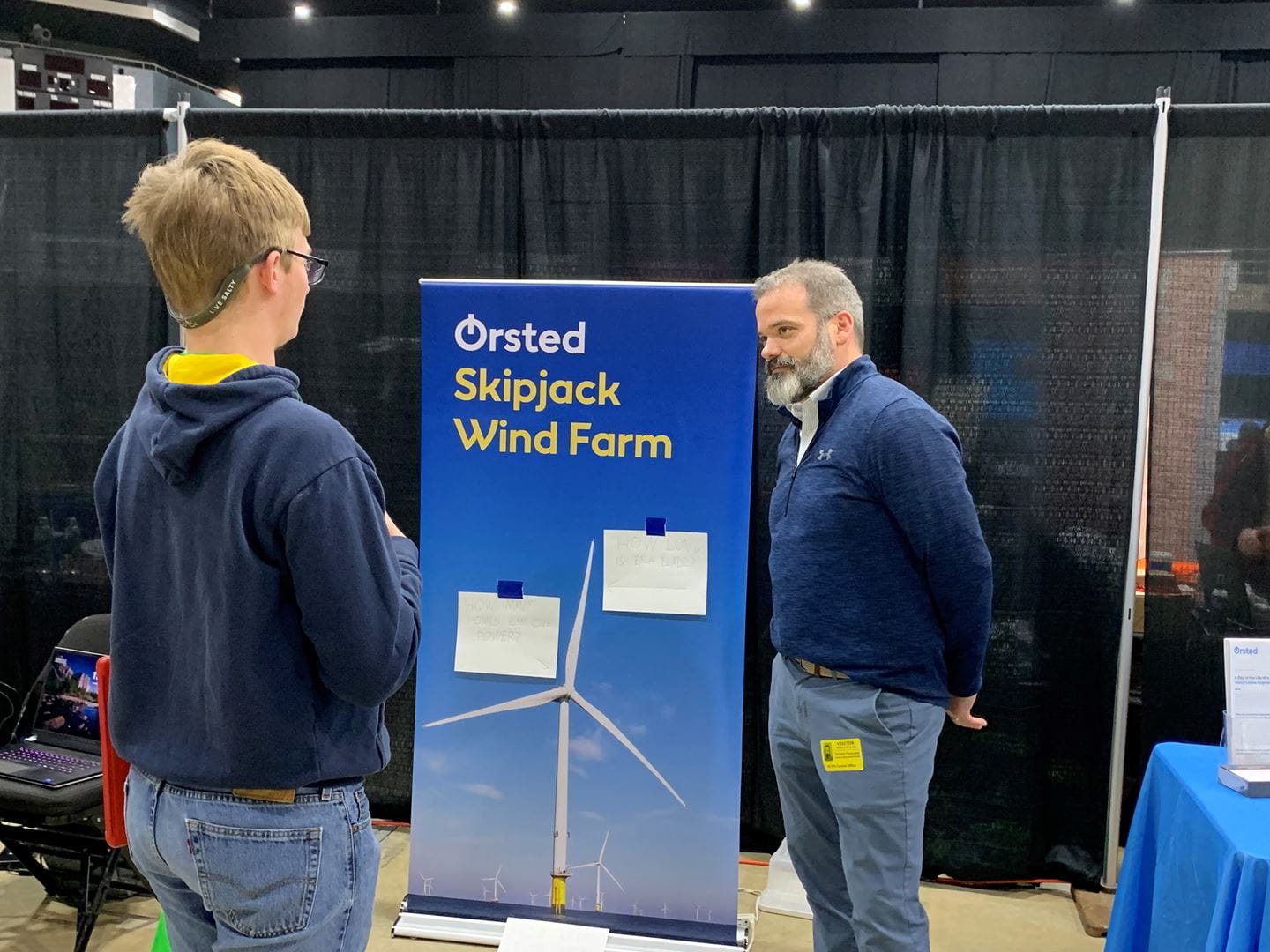 Annapolis, MD – Ørsted, the U.S. leader in offshore wind and developer of Skipjack Wind, on Tuesday offered hands-on learning experiences about the offshore wind industry to 8th grade students at Junior Achievement Eastern Shore's JA Inspire event in Salisbury, Maryland.
Students worked with Ørsted's team of infrastructure professionals to gauge the amount of power generated by model wind turbines on hand and tried on industrial gear traditionally worn by wind turbine technicians. Students also learned about "A Day in the Life" of a wind turbine engineer and the skills needed to launch a career in the offshore wind industry.
Ørsted is leading the industry's economic investment on the Eastern Shore and was joined at the event by its local partner, Crystal Steel Fabricators of Federalsburg, Maryland. Ørsted in October entered a major agreement with Crystal Steel to purchase $70 million in steel components that will be used to construct wind turbine foundations for Ørsted's Mid-Atlantic projects, which will power at least 1.5 million homes with renewable energy. Arcon Training Center, a women-owned business supporting the renewable energy industry through basic and technical education programs, also attended the event and showcased its offshore wind safety certification courses.
Ørsted is developing Maryland's first zero emissions operations and maintenance facility in West Ocean City. The nearly $20 million facility will service Skipjack Wind, create up to 110 temporary and permanent jobs, and position the Ocean City area as a strategic hub for offshore wind jobs and economic activity.
JA Inspire is a coalition of educators and industry leaders, led by Junior Achievement of the Eastern Shore. The event offers hands-on career exploration opportunities to nearly 3,000 8th grade students from counties across the Eastern Shore (Worcester, Wicomico, Somerset, Dorchester, Caroline, and Talbot).
About Skipjack Wind
Skipjack Wind is a 966 megawatt offshore wind project under development off the Maryland-Delaware coast. The project will create thousands of jobs in the Delmarva region, power approximately 300,000 homes in the region with clean energy, and enable more than $500 million in economic investment in Maryland. Learn more at www.skipjackwindfarm.com
About Ørsted Offshore North America
The Ørsted vision is a world that runs entirely on green energy. Four years in a row, Ørsted earned recognition as the world's most sustainable energy company by Corporate Knights, including for 2022. The company is a global clean energy leader and has the largest portfolio of offshore wind energy in the world.
In the United States, Ørsted operates the Block Island Wind Farm, America's first offshore wind farm, and constructed the two-turbine Coastal Virginia Offshore Wind pilot project – the first turbines to be installed in federal waters. Ørsted has approximately 5,000 megawatts of offshore wind energy in development in five states and across seven projects. Ørsted Offshore's North American business is jointly headquartered in Boston, Massachusetts and Providence, Rhode Island and employs approximately 250 people. To learn more visit us.orsted.com or follow us on Facebook, Instagram and Twitter (@OrstedUS).