Ørsted, Delaware Center for Horticulture Partner to Advance Urban Tree Canopy in Delaware
2023-04-21T21:20:12.0000000Z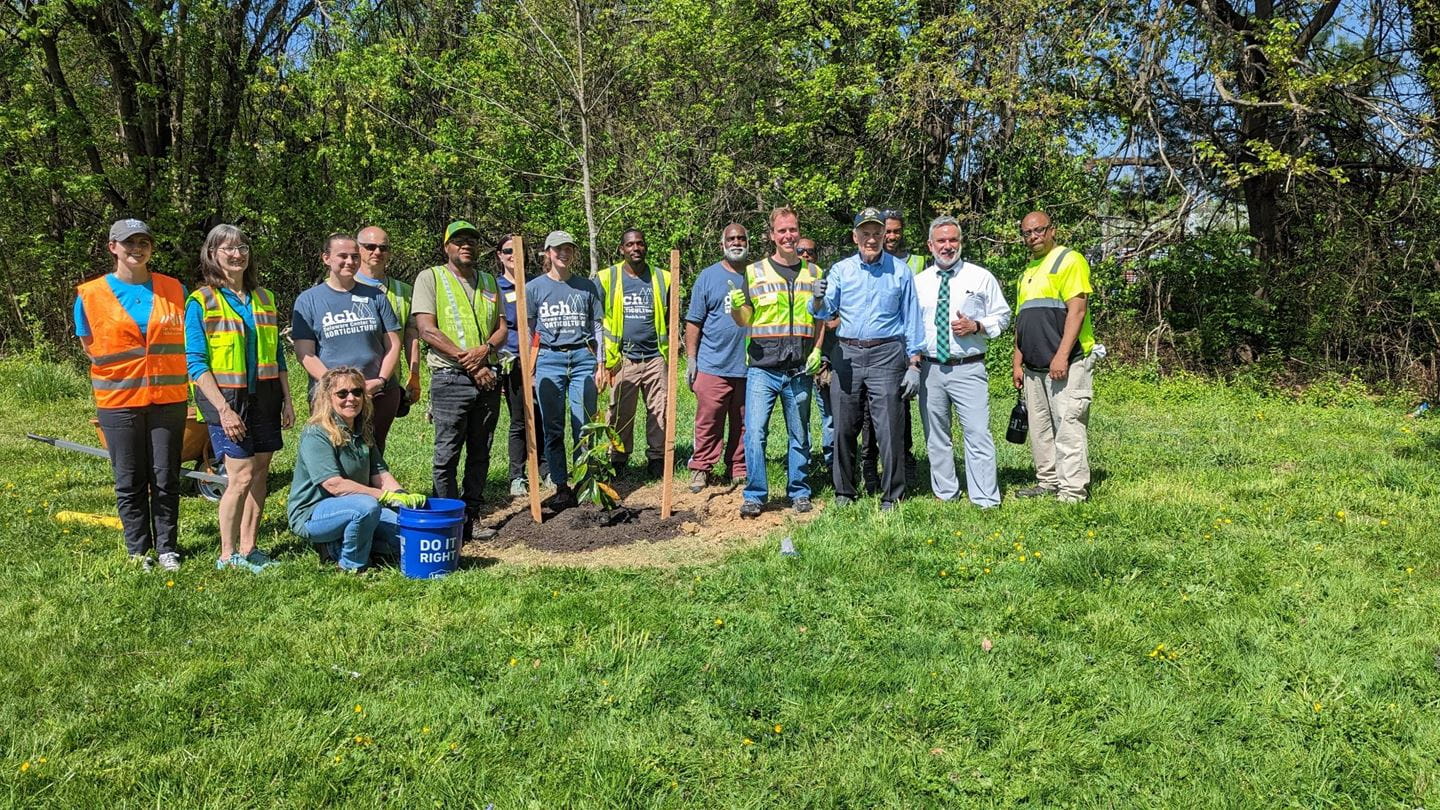 New Castle, DE -- Ørsted, a leading clean energy company, and the Delaware Center for Horticulture (DCH), a non-profit organization dedicated to improving the community through the power of plants, partnered to honor Earth Day on Friday by planting 20 trees at Collins Park in New Castle, Delaware. Ørsted also announced $10,000 in philanthropic support for DCH's efforts to improve the environment through horticulture, education, and conservation programs.
"We're honored to partner with Ørsted to help expand the tree canopy in Collins Park," said Vikram Krishnamurthy, Executive Director of DCH. "This project is providing important ecological improvements to a park where tree canopy is limited, and as the trees mature, residents and visitors of the park will feel the positive impact of this planting for years to come. This collaboration with Ørsted shows our combined commitment to working to reduce environmental issues in Delaware and demonstrates how natural solutions can be implemented."
"The Delaware Center for Horticulture's work is vital to keeping communities like New Castle environmentally resilient for decades to come," said Chris Bason, Ørsted's Delaware Stakeholder Lead. "As a leader in the responsible development of clean energy, Ørsted values partnerships with organizations like DCH that share our belief that sustainability benefits both people and nature. That's why we've committed to delivering a net-positive biodiversity impact from all new renewable energy projects we commission from 2030 at the latest."
Situated in the Route 9 Corridor, Collins Park is adjacent to major roadways, making the neighborhood susceptible to higher occurrences of littering, flooding, and air pollution. Urban tree canopies yield many benefits for people and nature, including reduced air pollution, cooler air temperatures, improved water filtration, and neighborhood beautification.
The tree planting will add critical tree canopy cover around the parks' recreational areas and improve the species and age diversity of the park's trees, creating a more environmentally resilient landscape for years to come.
As developer of Skipjack Wind off the Delaware coast, the planting will advance Ørsted's commitment to supporting thriving communities where it builds and operates its renewable energy assets and improve the flow of environmental benefits to disadvantaged communities.
About Delaware Center for Horticulture
Since 1977, the Delaware Center for Horticulture has inspired individuals and communities through the power of plants. Its work includes creating and maintaining the first Urban Farm in the city of Wilmington, establishing the Branches to Chances Return to Work Program, beautifying public landscapes, planting and advising on the urban placement of trees, and hosting educational programs and community events. For more information, visit www.thedch.org.
About Ørsted
A global clean energy leader, Ørsted develops, constructs, and operates offshore and land-based wind farms, solar farms, energy storage facilities, and bioenergy plants. Ørsted is the first energy company in the world with a science-based net-zero emissions target as validated by the Science Based Targets initiative.
In the United States, the company has approximately 650 employees and a growing portfolio of clean energy assets and partnerships that includes offshore wind energy, land-based wind energy, solar, storage technologies and e-fuels. A leader across the renewable energy sector in the United States, Ørsted holds the top position in offshore wind energy with approximately 5 gigawatts in development and operates America's first offshore wind farm, located off the coast of Block Island. Ørsted has a total U.S. land-based capacity of 5 gigawatts across wind, solar, storage technologies and e-fuels. To learn more about the Ørsted U.S. business, visit us.orsted.com or follow the company on Facebook, Instagram, and Twitter (@ØrstedUS).
Media Contact Information
The Delaware Center for Horticulture
Caitlyn Ridgley
cridgley@thedch.org
302.658.6262 x107

Ørsted
Henry Fawell
Campfire Communications
(410) 212-8468
henry@campfirecomm.com